What is an NFT?
In the cryptoverse, an NFT is frequently thought of as a digital work of art, including an image, audio, or video. By definition, a non-fungible token (NFT) is a unique digital identifier that is recorded in a blockchain network. This implies that while it cannot be duplicated, replaced, or divided, it can be traded or transferred between wallets. An NFT is used to certify authenticity and ownership.
What is goCharge.tech?
At goCharge.tech we're connecting a web2 business model that includes hardware devices to web3. To be more specific, we intend to set up at least 2500 power bank sharing stations where users will be able to rent power banks and pay using fiat or cryptocurrency.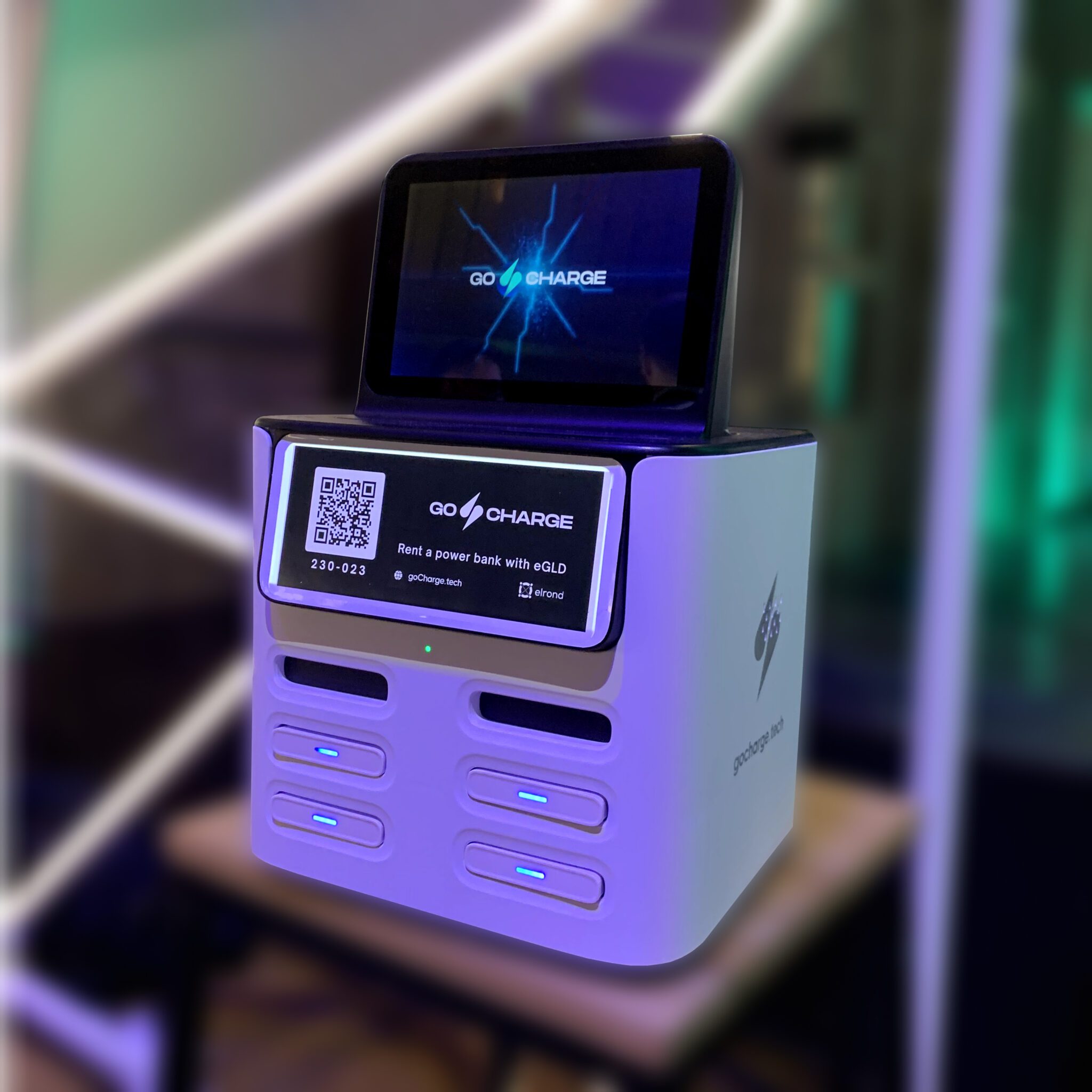 The renting procedure is fairly simple: just scan the QR code that is shown on the station, and a webpage will open up for you to pick between using a card or cryptocurrency as payment. Sign the transaction via Maiar app if paying with crypto or pay with credit card/apple pay/google pay. Once confirmed, a power bank that has been fully charged will be released from the station. Use the power bank to charge your device and then return to any station from our network.
How does the power bank franchise work?
Individuals will be able to buy power banks in franchise system from our network. This will be a one time payment. A new NFT will be minted and connected to a unique power bank ID. This NFT will be used as proof of franchise ownership. By logging in on our website with a wallet that holds at least one NFT, customers will be able to use any power bank from our network of stations for free, paying only for the electricity used to charge it.
One more thing: franchise owners will be able to earn passive income. Each time a customer rents a power bank that is connected to an NFT (bought in franchise), all the net profit will be automatically transferred by our Smart Contract to the wallet address that holds the NFT.
How much can be earned with a power bank in franchise?
A solid question that should be asked before investing in a franchise system is how quick you can get to breakeven and start being profitable. Here are some numbers:
A power bank will be available for ~35 euro (more or less, depending on shipping & country taxes).
Estimated NET revenue per one hour of rental is ~0.43 euro.
Taking into consideration 1 & 2, the breakeven can be achieved in 81 hours of rental.
The manufacturer guarantees minimum 300 charging cycles (0-100%) for power banks.
Usually a cycle equals with 2 hours of charge. The minimum revenue from a power bank will be 300*2h*0.43=258 euro.
Now let's subtract the power bank cost (1) from the minimum revenue (5). Results that a power bank can generate the minimum NET revenue of 223 euro.
Things to keep into consideration:
a power bank comes with 300 guaranteed cycles, but it can last more
some customers will keep the power bank for more than 2 hours, so revenue per cycle can be more than 0.86 euro.
Conclusion
Above we've described the real use case of blockchain and NFT as a proof of ownership. It's the first step in bridging our web2 business to web3. We do believe that it will be an inspiration for other fields and more companies will start implementing our model.
Want to be one of the early adopters and get power banks in franchise? Click here to join the Power Bank Franchise waiting list.
Want to be one of the early holders of the CHARGED token that will be used in our ecosystem? Click here to join the presale.
---
To stay up to date, make sure to follow us on Twitter or join our Telegram Group