We are glad to announce that the CHARGED token has been minted. We want to thank you, the early adopter, for trusting us and making it possible. CHARGED is a utility token that unlocks payments for power bank rentals and charging electric vehicles in our ecosystem. Read more about CHARGED token utility.
The CHARGED token is minted with the following Token ID: CHARGED-703583
Please keep this token ID in mind because, just knowing it, you can check the authenticity of GoChargeTech's CHARGED token!

Why should you always check for token ID?
Short answer – to avoid scams. Anyone can issue a token on MultiversX blockchain with the same name, but only one will be authentic with this ID: CHARGED-703583
An ESDT ID is build from 2 parts:
Ticker (in our case: CHARGED)
Token Unique Identifier (in our case: 703583)
Even if a bad actor/scammer will generate a token with the same Ticker (CHARGED), it will not be able to generate the same Token Unique Identifier, as its name suggests – it's unique.
Let's recap the GoChargeTech official token ID for your safety: CHARGED-703583

Managing tokens via Multisig Smart Contract
We believe that transparency and security are 2 important pillars of a strong community. For better tracking of the tokenomics buffers and vesting process, we've decided to lock tokens for each category in a multisig smart contract. This improves the security of the funds and each action (like transfer token) requires multiple parties to sign it. To read more about how a multisig smart contract works, click here.
GoCharge Multisig SC Addresses
Liquidity and Exchanges – erd1qqqqqqqqqqqqqpgqg33zm0q4l7nt3e7pdua9nkl794vzg0aaxyrqapxqg3
Staking Rewards – erd1qqqqqqqqqqqqqpgq94lkkvvajl6tv8dpvp3f8472cj8usvd9xyrqldacph
Marketing – erd1qqqqqqqqqqqqqpgqukkxnf33czy485qm4eu2atwgw0kkxk7fxyrqygkstx
Advisors – erd1qqqqqqqqqqqqqpgqc3p7cz425h07u086wgljyn95a790y6zzxyrq7uyhaj
Treasury – erd1qqqqqqqqqqqqqpgqxgep4vqydu68ma8maa9kl46jtzg0un7hxyrqhaj2e6
Presale – erd1qqqqqqqqqqqqqpgqq6cm236r7sc4x6wpt4wvxmhgnkuemfc7xyrqxh7zdn
Team – erd1qqqqqqqqqqqqqpgqvuwnxf4fuumen6y82dfdtv49qkjkvr2dxyrqy72u8d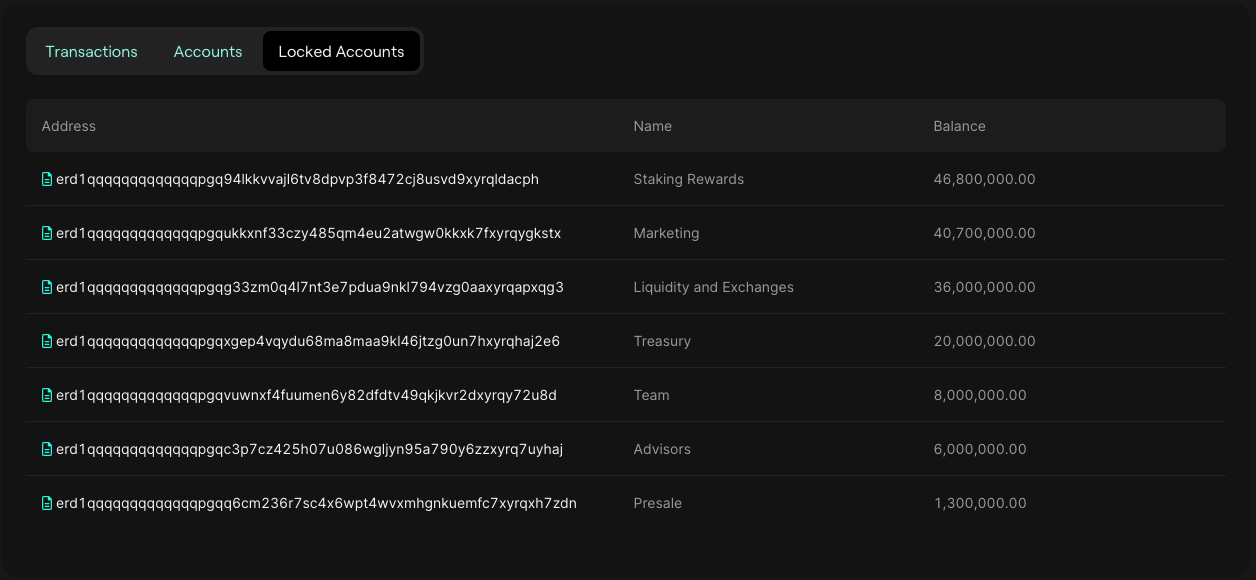 Conclusion
At GoCharge Tech, we take security extremely seriously to ensure safety for our project and investors. Tokens from each tokenomics category are stored in a separate multisig smart contract. The official token ID is CHARGED-703583.
To learn more about GoCharge Tech, join us on Telegram Chat.